Hiking In Bad Weather
Hiking in a Village
| November 2, 2009 at 05:05 PM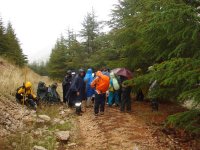 On Sunday 1st of November 2009, Baldati hikers walked 12.7 km in 3 nature reserves (Ayn Zhalta - Arz El Barouk- Maaser El Shouf) challenging the bad weather, resisting the rain, wind and mud just to be near their beloved cedars.
The one who called them 'WOUHOUSH' wasn't wrong. They really deserve the title.
We want to thank Mr. Marwan Khodor for being our guide in this exciting trip.
Add your comment
Login to Baldati to be able to add your comments!
Comments
There are no comments for this article yet.