مجزرة صريفا
Srifa
| March 19, 2010 at 01:08 PM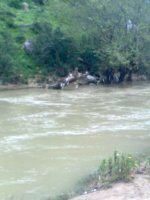 مجزرة صريفا (صور)استهدف الطيران الإسرائيلي ليل الثلاثاء-الاربعاء 18-19/7/2006، حي الجامع في بلدة صريفا ودمر عشرة منازل تدميراً كاملاً. والمعلومات مأخوذة عن جريدة السفير تاريخ 20/7/2006، التي أوردت ان عدد القتلى يبلغ 27 ضحية، والجرحى أكثر من 30 مواطناً. والمعلومات تفيد عن وجود ضحايا تتعفن جثامينها تحت الردم، لتعذر نبشه. وما تيسر لنا نورده وفقاً لما يلي:
اسماء الضحايا: اسماء الجرحى: المنازل المدمرة والمتضررة
- منزل كامل ذياب جابر:
1- كامل ذياب جابر -في مستشفى خروبي( الصرفند) -منزل أحمد نزال
2- احمد كامل جابر خضر محمد علاء الدين -=علي شريم
3- مناهل نجدي والدته عفيفة فقيه -=محمد علي نجدي
4- علي كامل نجدي زوجته زينات علاء الدين -=قاسم أشمر
5- علي نزال نزال اولاده :نبيل وعلي -=مصطفى فقيه
6- علي زعرور شقيقتاه:زينب ووفيقة -=محمد حسن سعيد
7 - بلال خروبي - في مستشفى حمود(صيدا) -=محمد خليل مزهر
Add your comment
Login to Baldati to be able to add your comments!
Comments
There are no comments for this article yet.