La Mascotte Phenix - Donnez-moi un prénom !
Francophonie
| November 24, 2008 at 04:35 PM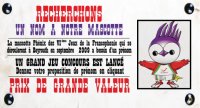 Donnez-moi un prénom !
La mascotte Phénix des VIèmes Jeux de la Francophonie – Beyrouth 2009 a besoin d'un prénom !
Nous faisons donc appel à votre talent pour lui trouver un prénom unisexe et facilement mémorisable.
Si vous :
êtes âgé(e) de 7 à 77ans et 12 mois maximum…

résidez dans un pays francophone

surfez au moins une fois par semaine sur www.jeux2009.org

avez de l'humour …


Add your comment
Login to Baldati to be able to add your comments!
Comments
There are no comments for this article yet.