Baldati in Sannine
Hiking in a Village
| January 14, 2009 at 04:21 PM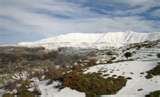 As we previously promised, Baldati will be discovering all the mountains of Lebanon this winter with you. And for this weekend, the 17th-18th of January 2009, Baldati will be in Sannine for partying and snowshoeing.
Click this link for details: http://www.baldati.com/events/event.php?id=202
I would like to ask each one of you wishing to join us in this exceptional trip to feel free participating in organizing our evening in Hotel "Monte Sannine" www.montesannine.com where we will be staying. You can bring with you:
· Music CDs
· Musical instrument if you play on any instrument
· Games as Monopoly, Pictionary, Risk, Play cards, etc…
We shall all collaborate for the success of this weekend.
N.B: Fill your hiking profile to be able to join the event online.
Add your comment
Login to Baldati to be able to add your comments!
Comments
There are no comments for this article yet.