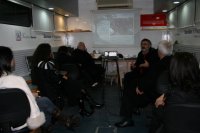 Baldati @ SITP Aintoura
Baldati had the pleasure to meet, last Saturday February 21st , with 11 trainees in the Saradar IT Program caravan parked since 1 month in the renowned village Aintouret Kesserwan.
In collaboration with Fondation Saradar and Formatech, Baldati has conducted a presentation about the projects as well as Baldati.com our regional media tool and the participants showed a great deal of interest to such a tool they considered, and I quote, "inspiring and necessary for every community".
And in response to the demands of some participants, Baldati will be meeting with the group and all interested for further training over Baldati.com and to activate the e-community of Aintoura and the regions around.
Baldati will be also meeting again all the trainees as well as a large number of people coming for the Graduation ceremony of almost 160 trainees from the SITP on February 28th at 6PM. So be many to participate, stay updated about our next stations and road shows in your communities and meet us wherever you are!