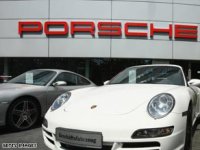 CEO out at Porsche; paves way for VW merger
Porsche announced Thursday that its longtime chief executive is stepping down, a move that may pave the way for a takeover by Volkswagen
Wendelin Wiedeking has been in the driver's seat at Porsche for 17 years. Also stepping down is Holger Haerter, Porsche's chief financial officer.
Michael Macht, who has been Porsche's head of production, will become the company's new chief executive, Porsche said.
"In the last weeks, Wiedeking and Haerter have come to the conclusion that the further strategic development of Porsche SE ... is better off if they are not on board," a Porsche statement said. "They both see that step as a significant contribution to the appeasement of the situation and to support the forming of an integrated car manufacturing company."
Wiedeking had long opposed a takeover by Volkswagen.
The announcement follows a surprise supervisory board meeting at Porsche late Wednesday.
The board decided to pursue a capital increase of 5 billion euros (about $7 billion) and to enter negotiations with Qatar Holdings, with the goal of getting the emirate to take a stake in the sports car maker.
Porsche said both measures are aimed at creating an "integrated" company with Volkswagen.
The meeting had originally been scheduled to take place Thursday afternoon in Stuttgart, where Volkswagen will also be holding a board meeting to deal with a possible merger.
Porsche tried to take over its fellow German automaker earlier this year, building a 51 percent stake in the company, with ambitions to raise the stake to 75 percent. But the move failed and Porsche was left with $12 billion in debt as the world automotive market began to shrink amid the financial crisis.
Volkswagen then began an effort to take over Porsche instead. The move could mean that Porsche will be integrated into Volkswagen as its 10th auto brand
http://edition.cnn.com/2009/BUSINESS/07/23/porsche.vw.ceo/index.html