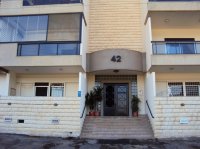 My Problem Solved
I live in Tamich, Dique El Mehdeh, Maten.. I have M.S. multiple sclerosis and I am now on a wheelchair, stairs are an everyday obstacle. Living in a building with eight steps to get to the elevator became a problem. I thought about moving to another building with no stairs.
I knew there was a space between my building and the neighboring one, this space is owned by the municipality and can't be built on. A road there can go directly to my 1st floor terrace. In 2009, I discussed my problem with baldati.com; they were very helpful to make a meeting with the mayor of Dique El Mehdeh where we talked about the sloping road. The mayor was so understanding and ready for any solution that makes my life easier. I really did not expect a great execution of the road, but few months later the excavation started, a border stone wall was built, then asphalt pavement. It is a perfect and easy slope to my apartment.
I can't thank baldati.com and Mayor Amin El Ashkar enough, my problem is solved. And hope other municipalities and communities help to make disabled people live easier.